[:en]ABG Participated and presented their edible oil "AZIMI OIL" product in the fifth domestic products exhibition, the exhibition was held in Afghanistan's western province of Herat where business community and locals showcased their products in various stalls that highly attracted visitors from Herat and other provinces.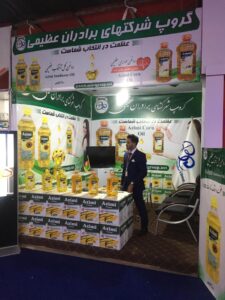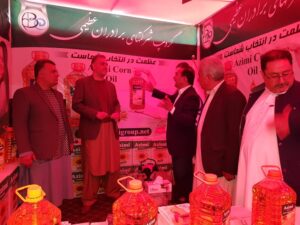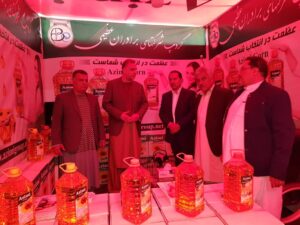 [:ps]دعظيمي ورونو د شرکتونو ګروپ د کورني محصولاتو پنځم کلني ڼدارتون کې خپل د خوراکې غوړی محصول ڼدارې ته وړاندې کړ.
پدې ڼدارتون کې ، د هرات ، کابل ، بلخ او کندهار ولایتونو محصولات په ۱۸۰ غرفې کې ڼدارې ته ایښودل شوي دي. په ڼدارتون کې شاوخوا پنځوس غرفې د ښځو لاسي صنایعو ته وقف شوي دي.د هرات د صنایعو او کانونو خونه وايي چې د کورنیو توکو کیفیت د تیرو کلونو په پرتله ښه شوی او دوی کورنیو بازارونو ته ځواب ویونکي دي.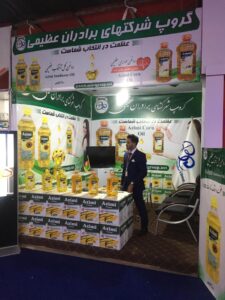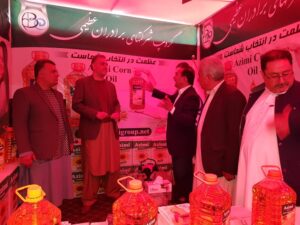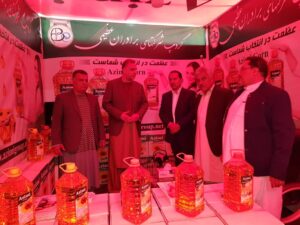 [:dr]گروپ شرکتهای بردران عظیمی محصول روغن خوراکی خویش را در پنجمین نمایشگاۀ سالانۀ فرآورده‌های داخلی به نمایش گذاشت.
در این نمایشگاه، فرآورده‌های ولایت‌های هرات، کابل، بلخ و کندهار در ۱۸۰غرفه به نمایش گذاشته شده‌اند. در حدود پنجاه غرفۀ این نمایشگاه به صنایع دستی زنان اختصاص یافته‌است.
اتاق صنعت و معادن هرات، می‌گوید که کیفیت کالاهای داخلی نسبت به سال‌های پیش بهتر شده‌است و پاسخ‌گوی بازارهای داخلی استند.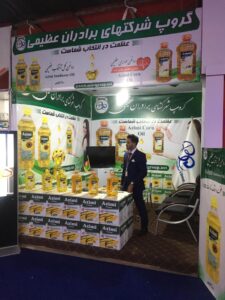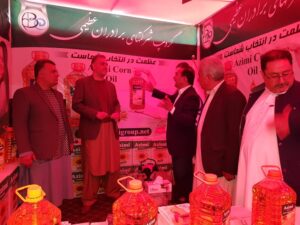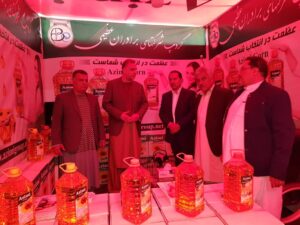 [:tr]ABG, beşinci yerli ürünler fuarına katılarak yemeklik yağ "AZIMI OIL" ürününü sergileyen fuar, Afganistan'ın batısındaki Herat ilinde, iş dünyasının ve yöre halkının ürünlerini, Herat ve diğer illerden yoğun ziyaretçi çeken çeşitli stantlarda sergilediği fuarda sergiledi.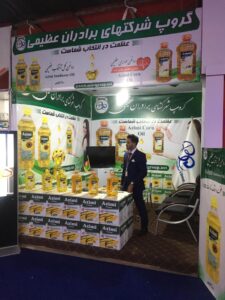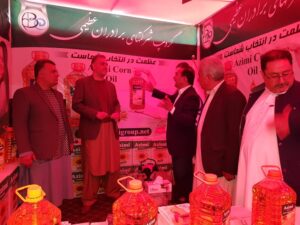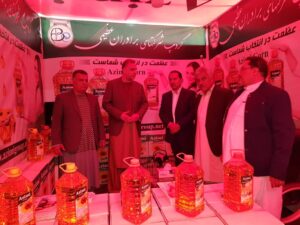 [:]